A Tribute to Michele Field
Posted on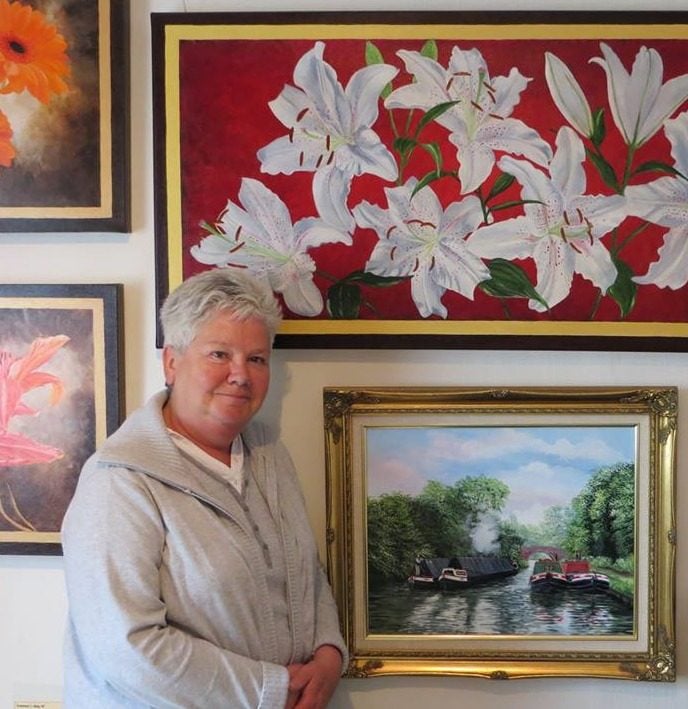 Michele Field
It is with great sadness and shock that we heard of the untimely death of our Member Michele Field, on Sun day 6th April.
Michele has been a loyal and active member of The Guild of Waterway Artists for many years, exhibiting with us frequently at The Braunston Boat Show. Often, during these weekends, she would fascinate the public by working on a painting, gathering an admiring crowd around her. Several times she organised exhibitions for The Guild, at the John Radcliffe Hospital in Oxford among other opportunities she spotted for us.
She was very professional and skilled promoter of her work, exhibiting widely in waterways venues and around her local area. Her work will be familiar to many, especially as most years one of her paintings featured as an IWA Christmas card.
As a painter, she saw and loved beauty and colour. She knew what her public liked and her paintings reflected this. But she was no 'hack' painter, she painted what she loved with feeling and the love of her subject matter shone through her work. Her spectacular flower paintings particularly reflect this.
As a colleague, in The Guild, she will be very much missed; She was very often the first to respond to discussion among members, usually with helpful and constructive suggestions. I personally valued our telephone conversations when tricky issues had to be addressed.
Personally, and on behalf of The Guild, I extend our sympathy to her husband Richard and to their family at this saddest of times. She will live on in her work, so full of colour and optimism.
Sarah Pressland. April 2014